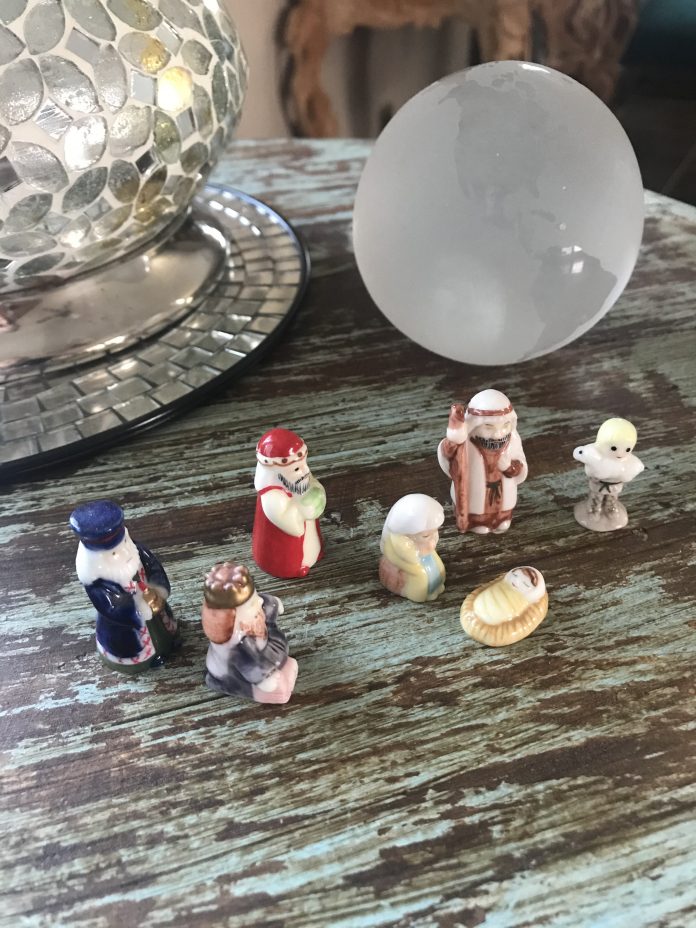 I remember my mother telling me about the way Christmas was different in Puerto Rico, from the weather (which was almost cool enough to need a sweater) to their gifts and celebrations. Although we didn't really continue the traditions of her memories (another story for another time) I have, over recent years, made some connections between the things she told me and things I have learned.
One of her stories was about the arrival of the three kings. She told us they would put hay under their beds and in the morning there would be gifts in place of the straw. She talked about it being on January 5th or 6th, I never could remember which, but it was years later that I would make the connection between what seemed a foreign custom of hers and the 12th day of Christmas we sing about.
When I was growing up, my mother woke up the day after Christmas with an overwhelming enthusiasm to get the tree down and all of the Christmas décor put away. She used to say that once the presents were gone from underneath, the tree just seemed too sad for her to leave it up. She never said if they left the tree up after Christmas when she was a child, but she seemed extra motivated to get the tree down as quickly as possible on the 26th.
I always used that time of putting away and paring down on the 26th as a time to begin my preparation for the new year. As a teenager, I would remove any Christmas decorations from my bedroom and clean it from top to bottom, then I would get out my new calendar, date book and whatever other organizational stuff I had gotten for Christmas as I prepared for the new year and the new semester of school which usually began a few days into the new year.
When I got married and had my own home, I also felt driven to have my tree and Christmas decorations down as soon as possible on the 26th. A day of deep cleaning and reorganizing does wonders for my particular personality type. It is all I can do to stop myself from starting to dismantle things on Christmas night after dinner dishes are done and the house is again quiet.
With a live tree that is dry and shedding, the empty area underneath that used to make my mom so sad and a burning desire to get ready for a new beginning, I can barely get through breakfast before I begin to put away the ho-ho-ho part of Christmas
But here is where I have parted ways with my mother and established a rhythm of my own.
Although my mom was raised Catholic until she was 16 and then was a staunch Baptist, she was influenced by my father to raise me with no religion at all. Everything Christmas in our house when I was a child was about Santa and the elves, not about Jesus. We had no nativity, creche or manger scene of any type. There were no angels and the three kings or wise men were never mentioned. Once the presents were open, the holiday was over.
The first Christmas that Tim and I had together, his 6 year old niece gave me a tiny bag that contained the smallest figures you can imagine. There were 3 wise men, a shepherd holding a lamb, Mary, Joseph and a baby Jesus in his manger bed. The baby was about the size of my pinky fingernail and the whole set was brightly colored and beautiful. It is still one of my favorite possessions.
As the years have gone by, I have been gifted or bought many more depictions of this scene which is now central to my celebration of Christmas. I have at least one in every room of the house and I not only consider each one special because of who gave it to me or where it came from, but because of what it represents. The addition of that scene and what it portrays has changed my entire view of Christmas.
What it has not changed is my desire to take down the stockings and the tree on December 26! I still feel that driving urge to get that tree down and all of the Santas and elves put away as quickly as possible.
Now, once all of the tinsel and garland and glass balls are put away, the baby and his family as depicted in wood and metal and porcelain and glass can take center stage not only in my home, but in my mind. Gone is the glitter and shine of the wrapping paper and what is left are the angels and the wise men, the sheep and their shepherds, the mother and the child, wrapped in cloths and laid in a manger.
When I sit in my chair to read or as I go about my chores, what I see isn't the remnants of our loud, commercial holiday, but the child, who is Christ the King. What waits through those 12 days of Christmas with me isn't a sad, dying tree but a living and hopeful God. That is where my focus lands, that is where my attention stays.
You can give me all of the traditional reasons why I am "supposed" to leave up my tree. You can act superior that you know all of the meaning and history of why I am "doing it all wrong". You can do whatever you want in your home, it's fine by me. In my house, I am ready on the 26th to let go of the tinsel and the dropping tree needles and get my house organized and in order.
I am ready to face a new year. I am ready to feel the joy of walking into the future organized and calm. I am ready to shift my focus from the season of waiting, to rejoicing in the one who is now here, trying to show us the way with peace and hope.