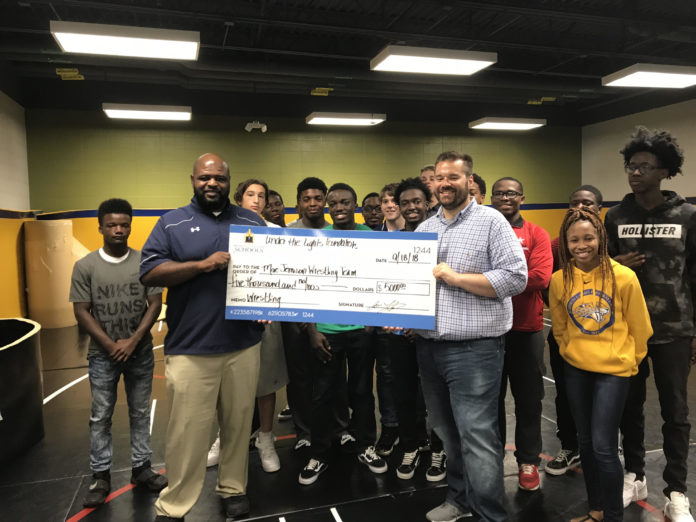 Almost two years ago, my son had the idea for a charitable foundation to aid the athletic and fine arts departments in schools that needed help or had students that needed help to participate in these programs. He went through all of the red tape to get his foundation approved and recognized by the powers that be. He was ready to make a difference until his job became overwhelming. Being my son, he didn't want to start something until he could give it his all and do it right. He decided to keep Under the Lights registered and going, but put it on the back burner for the time being. God often has other plans. . . 
For some reason that I have not heard, a couple of New York City documentary film makers decided to come to JO Johnson High School in Huntsville, Alabama and make a movie about the wrestling team there. Since that documentary was filmed, the school has been closed, merged with other schools to form the new Mae Jemison High School.
The documentary "Wrestle" was shown at the Sidewalk Film Festival here in Birmingham, Alabama. My son Jon, being the Alabama high school sports expert for WJOX radio and Stadium TV, wanted to see the documentary. We had made a weekend of the festival and seen some really interesting films (and some that were not so great.) Sunday was a much better day than Saturday for us as far as the films were concerned.
At the end of "Wrestle", a film that not only showed the last year of the school and it's wrestling team on the mats, but followed the lives of several of the athletes as they maneuvered low income living, high school and social pressures, racial profiling and single parenthood. It spent as much time off of the mat as on.
After the showing, members of the team and their old and new coaches went on the stage for a very short question and answer period. Some of the guys had been successful in getting scholarships and/ or at least getting into a college of some sort. Others had not made wise choices and had not been as successful. The point was made that without some outside assistance, there would not be a wrestling team this year.
Jon and I had so many questions that we discussed after we left, but the festival had time for only one question with the guys. On the way out I got separated from Jon and was put in the awkward position of speaking to the team members. Some who had been portrayed in a positive light were easy to speak to as I shook their hands. Others had me grasping for what to say. One of the guys that I was searching for the right thing to say to, grabbed my hand and thanked me for being there before I could say a word. He told me how much this all meant to him and his outlook on life. He made me feel comfortable where I had felt anxious only moments before.
I went into the lobby to find my son talking to the wrestling coach from the film. Jon was getting his contact info in order to get the guy on his radio show. We were rudely told by film festival volunteers to get out and quickly did so.
Out on the street walking to our next film, we discussed our impressions of the documentary, the coach and the team members. We talked about how they had said Mae Jemison did not have the money to field a wrestling team this year. A sport that generates no revenue can not be justified in a world of dollars and cents. They had asked for donations after the film and Jon had seen someone hand a check to the coach. We assumed they would raise a lot of money and that everything would be fine.
The movie had shown that having a goal, learning to work as a team, persevering and pushing through, and having a place to be after school had made a difference that money can not measure. Jon was excited to contact the coach the next week and hoped that by then most of the money needed for the formation of a team, would have been donated.
What Jon found out was the complete opposite.
Very little money was donated to the program that day and what had been raised didn't even cover the transportation for the team to be at the viewing of the film. Due to the film, the team was in debt. There would be no team for 2018-19.
Jon knew that he was being nudged to do something. The next day I saw an interview on a national morning talk show that included the guest saying the thing that had saved him was being on a wrestling team and he encouraged others to get their kids involved. I knew I was being nudged as well.
And from there, what happened this week was put into action.
Jon had not been able to do much besides the preliminary work of getting his foundation Under the Lights, set up. He had the 501(c)3 legally set up and recognized so that he could receive tax deductible donations. A checking account and website were set up. He was ready to have a fundraiser and get things going, when his job became exceptionally hectic. He decided that Under the Lights had to wait.
This story made him realize that sometimes you have to act. The time isn't ever perfect, but anything is possible. If you wait, time and opportunity can pass you by. So Jon decided to make this happen.
He called the coach and asked how much was needed to field a team. He got the money together and in a week he was headed to Huntsville to present his first grant. You can read about his mission and make a donation here. 
This day was meaningful for the school, the students who will now be a part of this team and for Under the Lights, which is now seeing more and more needs daily. It is hard for those of us who can just run out and get our child an instrument for band or pay the fees associated with a sport or other extracurricular activity to understand that some school systems just don't have the money. And when the cost is passed on to a student that has even less, the divide between socioeconomic groups grows larger.
Talent is pretty evenly distributed- opportunity is not. The wealthier school systems do not have all of the kids with athletic prowess, creative abilities and talent. If the kids in the poorer systems are never given access to fine arts programs or sports teams they are denied the chance to develop their gifts as well as denied the chance to learn the life lessons that the arts and team work teach.
Even in affluent schools, kids who have less than the average feel like they can't audition for certain things, because the cost is prohibitive. Having been a show choir parent, I know what it costs and it is not cheap. A kid who knows his parents can't afford the activity may never even try out.
There is a lot to be done in this world and as I get older I often feel overwhelmed. I am glad there are young people like my son who remind me that we have to keep trying. We have to do what we can, what we feel called to do.
If supporting kids, helping them find their joy, their talents and their inner strength isn't a good place to start, I am not sure what is. People often say that everyone should just pull themselves up by their bootstraps. That is tough when you have no boots. Let's give these kids some boots and see what they do. They won't all succeed, but if they never get a chance, failure is likely. Let's keep this thing going! If we each make a small contribution, big things can happen.