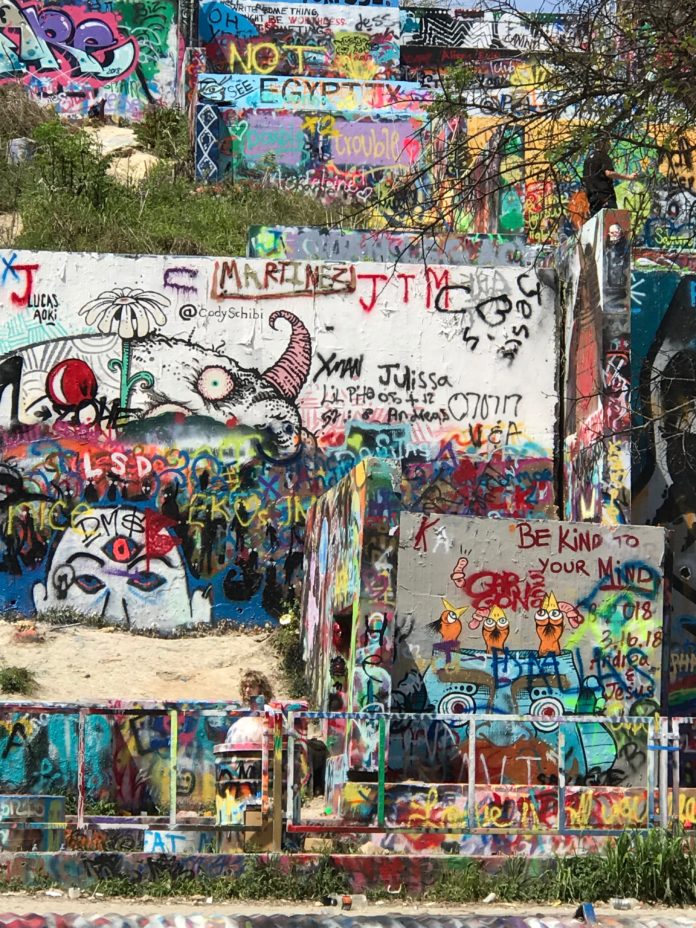 Day 3 was devoted to exploring around Austin. The first thing we did was head to a shop called Uncommon Objects. It was a large store front in an interesting part of town.
I am always surprised at how much Tim enjoys a place like this. I have learned over the years to make a pass through and see what's what, before going back to the start and slowly going through the things I was interested in. Tim doesn't have as much experience, so he picks up everything he likes and has an arm load before he gets out of the doorway.
I had pretty much scoped out the whole store only to come back to the entrance to find Tim holding several objects and waiting on me to ask about several others. We walked back through together talking about things we had seen and telling stories of people in our lives.
I see a store like this more as a museum than a store. I don't have to acquire everything I see and react to. Having someone that you have a shared history with walking and remembering beside you makes it that much better.
In Tyler Perry's book, HIGHER IS WAITING, he talks about how people come into your lives and compares it to a tree. Some people are like leaves, they are there for a short time, making life pretty and serving a purpose, whether it be to teach you a lesson or just bring some joy to your life. But they are not there for the long haul. And that is OK. You have your time together and then they are gone with the wind.
Some people are like branches, more a part of you and there for a longer time. But be careful! Sometimes, if you put too much weight on them, ask too much from them, they can break and drop you to the ground hard!
Very few people are like the trunk of the tree. They sustain you, are always there for you, are your roots and your foundation. They are who you can lean on and count on.
After having read our devotion that morning and then talking about people we were reminded of by the old objects we encountered made me think about the people who have come and gone in my life. The ones who just made a short guest appearance and the ones who are there for everything.
We bought old tools that brought back memories of loved ones lost, typeset "sorts" which are the little letters that were used to set up printing presses, (Tim's grandfather was a typesetter and my grandfather worked at a newspaper) an old oil can, an old set of bellows, and more. Uncommon Objects was the perfect name for this place!
We drove around and took in the sights like Graffiti Park, which you see in the photograph. That was just a small portion of the walls covered in colorful pictures and words. If we had had some paint with us I would have drawn something on the walls and walls of colorful graffiti. Lack of paint, parking and the fact that they are about to tear the whole thing down made us decide to just drive by a couple of times. Another uncommon sight.
We headed to South Congress, where we found a parking place and decided to eat at a restaurant called Hopdoddy. We were outside reading the menu when the hostess came out to tell us that any burger or sandwich we saw could be made into a lettuce wrap. I was sold.
It was a really good meal and I discovered a locally brewed beer that I really like. I always ask for the lightest, sissiest, fruitiest thing they have and have enjoyed most everything that I get served. This brew however, was light, had a true beer flavor but absolutely no after taste. When the waiter came back by I again asked the name of it and if he knew if they bottled it. He said they did.
We walked up and down South Congress and in to several cool shops. I bought a cross for Tim at one stop and as I paid for it I saw these little charms in bowls beside the cash register. I asked the man behind the counter about them and he told me they were called "milagros" which is Spanish for miracles. The little flat charms are included in art work and he had hearts that were covered in the little silver pieces. You pick something that is bothering you or that you are praying about, find a milagro and include it in what you are painting or making and it will help to ask for that miracle to occur either for you or whomever gets your artwork.
After several more stops along the street, we went back to our car and rode back downtown to some more antique stores. Then back to the hotel to change.
That night we went to the Alamo Drafthouse, the one thing our son Jon had told us we had to do. The theatre was different from what we have around here. We had a server who brought us food and drink during the movie. Bottomless drinks and popcorn, a full bar and actual meals you could order before or during the movie made this a far cry from theatres in Birmingham! It was fun, but the major take away is that although they are serving you during the movie they have ZERO tolerance for noise and they are SERIOUS about your cell phone being off.
The waiter at lunch had told us to be sure our phone was off when we went, the lady who sold us our ticket told us, our waiter told us we could be thrown out so to make sure our phone was off, and the short films and previews before the main attraction was interspersed with warnings about your cell phone.
They give you a pad and a pen so that you can write down if you want anything, another drink, more popcorn, a sandwich, dessert. You then stand the note up in a little railing in front of you and the waiter comes by and picks it up. But NO TALKING!
We saw TOMB RAIDER and I ate popcorn, a really good grilled cheese sandwich with fries and drank a beer which felt weird to me since the most I've ever eaten at a movie was popcorn and water! Another uncommon experience.
It felt like we had walked miles, talked to hundreds of very friendly people and experienced all kinds of sights and sounds. I was exhausted after the late movie, so it was time to head back to the hotel for a good night's rest. The plan for the next day included a little side road trip and as before, the GPS had a mind of its own that would take us to a place we didn't realize was so nearby.