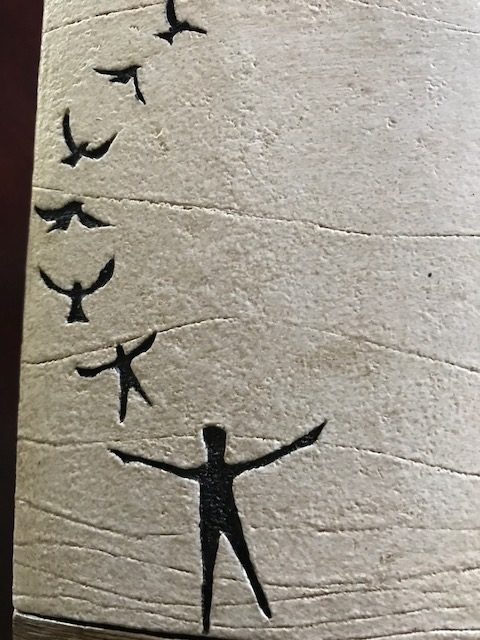 Last week I had lunch with some friends, who always make me feel happy. We had in depth conversations about all types of subjects- religion, politics, football, family and more. We laughed, we cried, we lamented and we hoped.
A couple of days ago, we had a storm and our power went out. Tim and I decided as the minutes turned to hours, that we would go out to eat some dinner.
After we had eaten and driven around looking at some new construction, etc. we were ready to head for home. I texted my neighbor who told us the power was still out.
So we rode around some more.
Soon I received a text saying that the power was back and we headed for home.
Yesterday, as I got started on dinner, I received a text from a neighbor asking if we liked eggplant, banana peppers or tomatoes. After a few texts back and forth I met her in the backyard where she stood with an armload of fresh vegetables that I quickly chopped and added to the sauce I was making for pasta.
Tomorrow I begin a journey, a pilgrimage of sorts. As I stepped out to the back porch just now, I had a strange feeling. I felt all of the people who have set me on this journey, the event that made it necessary, the people who prodded and pushed me forward, the people who blessed and encouraged me, the neighbors who unknowingly helped me feel loved, surrounded by friendship and made me realize that I do nothing in this life alone.
People can drive me crazy sometimes (most of the time!) and I love my time alone (really, really love it!) But without my friend who suggested this journey, my husband and son who are supporting me through this trip, the minister who took time to bless this endeavor and the random people who are just there for me, I would not survive.
I have my questions, my doubts, my issues, but I felt the love surround me like a blanket right now as I stepped on the porch. I felt the presence of something bigger than me. Whatever you call that or think that is, I know it is there.
So often I have tried to force the situation- been on a mission trip or been to a church service that I just knew would bring me to my knees. I guess I am cynical and hardened enough that often these events don't do what I had thought they would.
And then, out of the blue, when I least expect it, I get that feeling. I know I am not alone. That the people who hold me up everyday, the joy I find in small moments and the love I feel from all directions is all a part of something bigger.
Whatever the next few days bring, I will be open to it and celebrate it. It might not be the great relief or closure that I am hoping for. It might be that and more. But I go forth having had so many moments already this week that have lifted me, made my life richer and let me know what matters.
So off I go. Off to see new things, search for old things, revisit old memories and make some new ones. I will let you know how it goes.