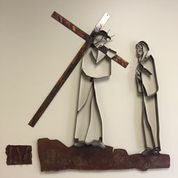 I am definitely a schedule person. I have not had luck with any of the online type calendars, so I still have a desktop calendar that I structure my life around. Each year I buy a Mary Engelbreit calendar with inspirational sayings, cute illustrations, and each page containing a weekly calendar.
Tim calls it "the book by which all things are reckoned" since I also keep up with most of his appointments, as well as mine and ours together. In the past I have also kept up with my son's appointments, but now that he is grown, I only remind him when we have a joint social commitment, like a play or wedding to attend.
Although I don't think of myself as a terribly busy person, I do have a fairly full looking calendar. Part of that is because I schedule everything on this book so that I make time for all that needs to be done. Not only do I put my work appointments and social plans on there, I write down the days I want to take off and when I need to pay bills or do an unusual chore.
I might write down a goal I want to achieve that week or a person I want to touch base with. I write down which week is our recycling week and when I need to water the flowers.
Each Sunday afternoon I turn the page to the next week. I look through to see how busy I will be, where I can find little pockets of "me" time and what I need to remind Tim about or confirm with others. I also get my head right about how much I need to prepare for a meeting or a social event.
Some weeks are way busier than others, but every week has something to dread and many things to look forward to. There are weeks that my schedule looks almost impossible to manage, with days full of color coded events that give me anxiety. Every week has something written on the page.
Until today.
Even having been mostly home for a few weeks and nine straight days of completely staying at home except for picking up our anniversary dinner curbside, running some mail to the mailboxes outside of our post office and walks around the neighborhood, I still had things on my calendar. I had a deadline to meet or a note to self about sending a bill or a reminder to contact someone.
More and more I had appointments scratched out, a doctor's check up that was postponed, tickets to a play that has been cancelled, a standing "first Friday of the month" lunch date that can't happen right now. All of the colors on the page for last week showed what I had planned to do and the purple lines through those plans were proof of how much has changed so quickly.
Just now, after watching church on my computer, I turned the page to next week and for the first time that I can remember, there was nothing. Each day was blank. No rehearsals, no projects, no meetings, no lunch dates, no deadlines, nothing.
As I look at the blank calendar, I am reminded what this week is and what that usually means for me. We should have been closing a show today even though we were a bit worried about doing that on Palm Sunday. Our schedule at the time of planning the season was so full that we decided that was what we had to do to make it all work, and yet here we are- no show, no closing. The set is already gone and the theatre is dark.
More importantly it is Holy Week.
That usually means a calendar that shows noon day services Monday, Tuesday and Wednesday. It usually means going to the wholesale florist and getting flowers for the arrangements for the house. It always meant grocery shopping for cute things for Easter baskets and a special meal for the three of us on Easter (with our new daughter-in-law, last year we gained a family that kindly takes us into their home and life to share a meal together.)
It means a service for Maundy Thursday and one of our church's most moving and heartbreaking services on Good Friday. It means walking the Way of the Cross with people from all of the churches of the community, a tradition I have followed faithfully for over 20 years now.
It means a Saturday of cleaning and cooking and arranging and reflecting as I prepare for Easter. It means a trip to church on Sunday morning where I don't recognize my own church after 37 years there. The crowd of people is bigger than any other day and I don't recognize anyone. The church is packed and we often sit somewhere other than our usual spot. The flowers are grander, the choir is more full and the whole experience seems overwhelming, in both good and not so good ways.
I try every year to go through this season very intentionally. I go to every service from Ash Wednesday through Easter with a journey mapped out, something to give up, something to add to my spiritual routine. I try to do more Bible study, maybe read an inspirational book. I try to spend Holy Week close to home except for church, really preparing for the journey the week takes me on.
A few years ago, I was directing a short play for my Directing Three class and our performances were on Good Friday and Saturday. The school schedule was so tight that there was no way to reschedule so if I wanted to pass, I had to be at school all week, rehearsing, getting the tech set and the details handled. After the show on Saturday, we had to strike our sets, props and costumes so I didn't get back to Homewood until the wee hours of Easter morning.
After missing the journey of Holy Week, I didn't feel prepared to appreciate Easter. Plus, I was exhausted. Tim had to set up for sunrise service in the park, so only a couple of hours after I crawled into bed, he got up and left. After all of the Easter services that he had to work, he returned home for a meal I had thrown together and then we napped. I thought that was a very disappointing Easter and Holy Week and it all made me sad. I told myself that I didn't want that to ever happen again, I wanted to protect Holy Week from then on as a meaningful journey I needed to take.
Now I turn the page of my calendar and there on that page I see nothing. It reminded me how out of sorts all of Lent has been, although it began with the best of intentions. It makes me wonder what I can do to make this week way more than the emptiness I see in front of me. How can I make sure that although there are no services to attend in person, no big meal to cook, no crowds of my neighbors to walk from church to church with, no new dress and shoes, this week has meaning?
I have noticed that although my old routine has been disrupted, I have made a new schedule. Being the type of person who can be rather regimented in my approach to life, I have fallen into a new pattern rather easily. I have less to do and yet I still have a specific time for the few things I do- when I do yoga, (cat yoga now, since my cat has decided that she likes me being in the house more and has attached herself to me most of the day) when I cook, when I write, when I read, when I watch TV, when I take a walk. My days are not as varied as they used to be, each one is almost identical to the one before and I see myself falling in line with that arrangement.
I have a decision to make. Take this week to be scared since the news tells us that this week could be the worst of this whole ordeal, or find a way to be hopeful. I can continue to just get through each day, keeping to my new schedule and watching each day melt into the next or I can turn my days upside down with a radical new plan. I can stay home, follow the guidelines and still make this a holy Holy Week.
I am a person who likes structure. I need it. Right now that structure, that feeling of safety that structure brings me, is gone. Replacing it has probably been too easy, just filling the hours with whatever presented itself. Maybe I can take this blank calendar and do a better job of deciding what I fill my hours with, not just for this week, but going forward. Maybe from this point forward I will be better at making my schedule reflect the life I strive for.