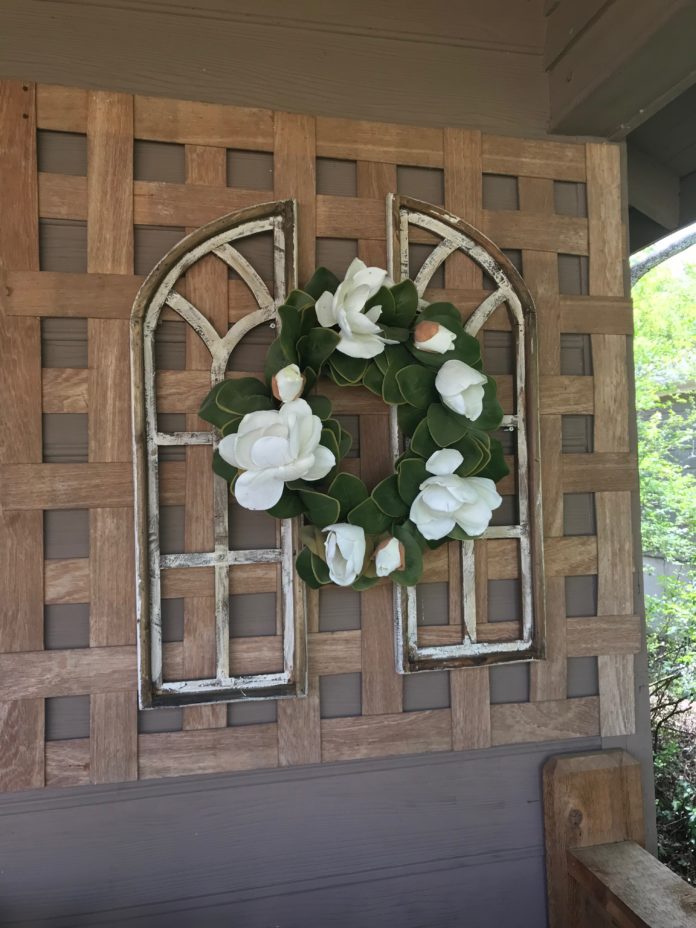 On Thursday morning we got up and headed to Round Top, Texas -population 90. It is about an hour and a half drive through the woods from Austin.
Being a fan of decorating shows, I had seen designers go to Round Top often and it seemed like a great place to look for antiques and other interesting things. I thought it would be a large flea market, but I had no idea what I was getting us into.
I put Round Top, Texas into my phone and away we headed. As Tim drove, I read some more of Chip's book. The GPS seemed to be taking us further and further into the country. Suddenly, looming in front of us was a huge racing complex called the Circuit of the Americas. The interesting thing was that Tim had mentioned this race the day before and had said he thought it was somewhere in the area, but didn't know where. And here, in the middle of nowhere without us trying to find it, was the track.
We took a minute to ride around and look at it from outside of the gates, but when we asked a grounds worker about a store he told us it didn't open until 11, so we drove on.
When we were near Round Top, we suddenly saw what looked like a huge tent city on the side of the road. The field beside us was covered in booth after booth of antique and junk dealers, acres and acres of every type of thing you can imagine. We drove a few yards and there was another huge area of tents and easy-ups on the other side of the road. There would be a small stretch of houses before another huge tent city would fill another huge field. The amount of "stuff" was unreal.
In what seemed the heart of the city (which is kind of hard to determine when there are only 90 people living there) there were a few restaurants and permanent storefronts. Then we were on the other side of "town" and there was a big metal building of antiques on one side of the road and a big red barn of antiques on the other side. We decided to stop, shop those two places and then go back into town.
The big metal structure held many vendors of architectural pieces, furniture, plants and more. I had been looking for a little wrought iron table for the back porch and one of the first things I saw was the perfect little table. It was cute, a little rusty, but the right size and shape. This is why we had driven instead of flown, in order to purchase things like this and carry them home with us!
I walked straight to the table, looked at the price tag and nearly fainted. It was $3,000!! We were in the wrong place! I decided to treat this area as a place for ideas and inspiration, but not purchasing. I don't care how much money you do or don't have, that is ridiculous!
While wandering around, I did find a cute little moss covered cone to put flowers in that I thought would be cute on the front door for Easter. It was only $14.95 so I thought I would actually make a purchase, something I had not predicted after the table incident.
When I went to pay the lady, I handed her a $20 bill as she said it came to $16 even. As she pushed some buttons on her cash register, I remembered that I had a lot of ones in my purse, so I asked her if I could give her a one dollar bill so that I would get a five instead of more ones. She told me no, that she had already punched it in the cash register. She opened the drawer and counted out four ones. She then said she really needed the ones, so since I was holding one I said, "Just put this one with the four you are holding and give me a five." She said she couldn't do that without a lot of extra work on the computer. I told her that the money would be the same, 5 ones for one 5, but she said no and closed the cash drawer, handing me the 4 ones. I told her that they needed a better system and she gave me a dirty look, handed me my package and turned away. I guess I insulted her cash register?
After that we left and went over to the red barn across the road. It was really cool- room after room of all kinds of things with a dirt floor and bargains more in line with what I was searching for. Tim and I had to restrain ourselves to a couple of items- we could have taken the whole place!
After that we went back to the center of town. We went to a couple of stores and I bought a baby gift (we found out a friend had their baby while we were there) and we asked about the best place to eat.
We were directed to a cute little dive called Royer's. Their claim to fame was pie. If you got too full on your meal, Royer's had a second location a block away that just served dessert, so you could walk off lunch and then have dessert. Imagine having two locations in a town of 90! That tells you how much tourist traffic they have. The first thing I noticed when we sat down was that each table had a wine glass in the middle of it with reading glasses stuck down in the glass. Great idea!
After a really good Shrimp BLT salad, I had to try out the pie. I was glad I did! I had been saving my sweet tooth for a cupcake at the Silos Bakery in Waco. I didn't know that that would never happen, so at least I had this perfect piece of apple pie and ice cream to fill the sweet void.
Now it was time to hit the fields of tents. We walked around for quite awhile before deciding on what we just had to have. I found a wire basket and an old tool holder that I bargained for and got them both for only $30. Then Tim tried his hand at bargaining and although the guy at this booth wasn't as quick to come off of his price, Tim made enough of a deal for us to go home with a set of windows and some strange blade things we are going to turn into a piece of art.
It had gotten really hot and late in the afternoon, so we decided we had had all of the fun we could stand and loaded up to head back to Austin.
On the way back to the hotel we found the University of Texas and looked around. We went into their bookstore to find a souvenir for our son Jon. Being a sportscaster, he loves memorabilia from any college.
After driving all around town to get to campus, when we put the hotel into Google maps it took us about 3 blocks to get there. We realized we had been driving around a lot more than necessary the whole time we had been in Austin. Does Google have a deal with the gasoline companies??
Once back at the hotel, we found two big, comfy chairs by the window in the bar where we could have a snack, a lovely adult beverage and people watch while discussing our day. It had been a really tiring, but fun day and I couldn't wait to get our treasures back home!
However, we still had the main event ahead- Waco and my crazy idea.