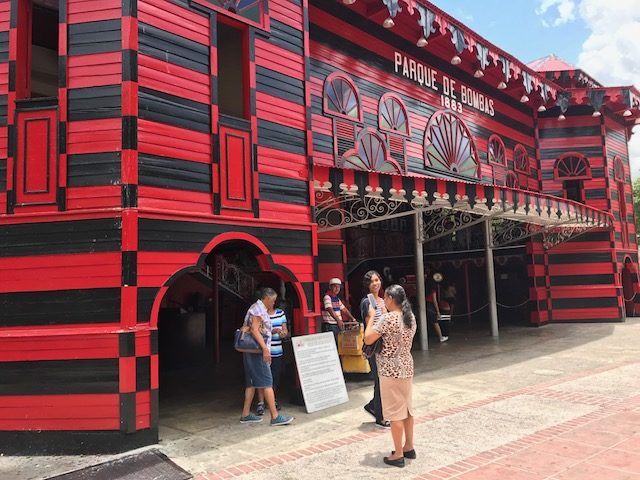 On the third day of our trip, we were up early. We had reserved an SUV for the day at the rental place there at our hotel.
The car rental guy gave us directions to the nearest gas station since the car was almost empty. When we pulled up to the pump, we could not figure out how to use it. There was a place to hold up your phone for the fast pass thing (I think) and a big QR code on the screen in the middle, but there was no place to put a credit card that we could see. Nothing like being in a foreign land (even though Puerto Rico is technically the US) to make you feel dumb!
After a quick trip in to pay, we decided it wasn't a good idea to start without breakfast again, like we had done the day before. Just up the busy street was a Burger King. For all of the tiny streets and quaint shops of Old San Juan, regular San Juan is a bustling city with fast food, tall buildings and traffic jams.
Being in a hurry to hit the road, I agreed to Burger King. Tim was nervous after the gas station incident to go to the drive through, but Jon and I convinced him that so far everyone we had come in contact with spoke perfect English, so it should be fine. Anyway, it was Burger King! How American can you get?
So we pulled up in line and as soon as he saw the menu we realized a) it was in Spanish and b) it was not all of the usual items. I was in the back seat so Tim pulled forward a bit and rolled down my window. I got the hint that he wanted me to order, but Jon leaned over his dad and ordered in half Spanish, half English. And that is what they got, half of the order. When we got to the window, only half of our food was in the bag. After a short wait we were brought the rest of the order and we finally hit the road.
I had told Tim about the trip we had taken in my childhood up to the mountains of PR. He was not prepared for just how mountainous it was.
The small, incredibly winding roads I remember had been replaced with larger, incredibly winding roads. The views were beautiful and although Tim offered to pull over, there was really no place to pull over that seemed safely off of the road, so I said no. The joke became that I had lots of pictures of blurred trees as we sped through the hills.
As we came down the other side, getting nearer to my mom's hometown of Ponce, there were lots of the wind turbines that I find so fascinating. I have lots of blurry pictures of those as well! (It makes no sense to me that we don't make more use of that energy source, but obviously PR is.)
Just as we pulled into Ponce, my phone dinged. Now if you read the first post in this series, you read that I had not contacted my cousins about this trip. I really only know 2 of my cousins, but I have lots more! My cousin Walter came when my mom died and is my same age. I remember him from our last trip to PR when I was 14.
The other cousin that I know is Jose'. He is a retired Marine pilot who came to my wedding, has visited Birmingham a few times and now lives in Virginia. I have not seen him in over 20 years and we have had minimal contact. At one point my mom tried to give me his email address, but being totally oblivious to anything computer oriented, what she gave me  just looked wrong and never worked.
As I looked down at my phone in Ponce, there was a friend request from Jose'! Out of the blue, after 20 years, just as we pull up to Ponce, somewhere that he grew up and I had not seen in over 40 years, he randomly sends me a friend request.
I was stunned. I, of course, accepted and immediately sent him a message that I had just gotten to Ponce and why I was there. My phone then began to ding over and over as I got request after request from cousin after cousin. Some in San Juan, some in Ponce, some in the US. I was overwhelmed.
I knew that we only had a few hours to be in Ponce. I was not going to pull people from their lives on the spur of the moment so Tim, Jon and I went to the one landmark I knew still existed. My mom had a picture post card and I have a small souvenir from the Parque de Bombas. It is a museum of fire trucks, but backs up to a church and is in the middle of a town square full of grass, trees and flowers.
Knowing my mom had been there, knowing that she loved the beautiful trees and flowers of Ponce, I had decided that this was the spot for her ashes to be spread.
I could not make a big emotional deal out of it. I have cried and cried. I have been through a burial that was more upsetting than comforting, I had been through a blessing before the trip that made me cry again. I had looked at the small container for almost a year and now I just wanted to make sure the ashes were among the flowers and move on.
The park was full of policemen, wandering around keeping us all safe. All around the square were people walking, shopping in the stores on the other side of the street, and cars driving by.
Over and over I had been told not to ask permission, to just do it. The people at the funeral home, the people I had planned this with, anyone I talked to said don't ask permission. If that was the case, that must mean the answer would be NO! Which means it must not be legal. At the very least it is not condoned, although people do it all of the time.
We walked around the square, looked at the church and then found a quiet area full of greenery and trees. It was the perfect spot except that there were two policia standing together watching the area and talking.
The three of us sat on a bench in the blazing sun, with our back to the policemen. I told Tim to just hand me the container and I would nonchalantly pour out the contents. Tim had the box in his pocket, but would not give it to me. I finally realized that he wanted to make this more of a "thing" than I had planned. He didn't want to just dump it out and run.
We moved to a bench in the shade and now we were straight across from the police. One of the officers wandered away, but the other was right there. We waited and watched as the officer made a lap around the statue in the center of our side of the park. He returned to his spot near us. We realized if we went back to the other side we could put the huge tree's trunk between us and him.
We casually strolled back to the other side looking at bushes and making our way to where the tree would hide us as we distributed the ashes. It was getting super hot and we had been out there quite a while. I felt that we looked suspicious.
Finally Tim pulled the small, square container out of his pocket and I unscrewed the plug in the bottom. I looked up to check out where the policeman was and I saw him round the corner as he walked away. He left at just the right time!
I shook the container and nothing came out. The ashes were hardened inisde the box. It was not the sweet, soft ashes I had imagined flowing in the breeze as they settled in around the bottom of the flowering bushes. Instead we had to get the car key, break the ashes up and scrape them out. It was not the picture I had painted in my mind, but it still made me cry as Tim and Jon hugged me.
The ashes fell among the ash colored dirt and on the large leaves of the plant growing in that soil. I didn't take a picture of the spot, but it will live in my memory as long as I can remember things.
We left the park and wandered a bit by foot and then by car. We rode around and eventually decided to go to the University of Puerto Rico- Ponce and then to a mall nearby so Jon could get a Puerto Rico baseball team cap.
I knew no where else to go, nothing else to see. I probably made the wrong choice not getting my cousins involved, but it was too late now. We drove back to San Juan by way of a town called Cidra where I think my aunt had lived. And then we were back on the road.
I wanted to have an organic, unplanned trip. But having "no plan" is really not the way I roll. I will say, we didn't see as much as we could have. I didn't make the connections I should have. But I did get a small part of my mom to a place I know she loved. I did get to share that place with the two most important people in my life. I did get to relax for a bit in a truly beautiful place. I did get to start a connection with some family that I didn't know very well before, but I hope to get to know now.
I don't know that I will ever get back to Puerto Rico. Who knows what the future holds? On the drive back, I felt a tug at my heart. A pull to not leave quite yet. Our flight out was the next day, so I knew that time was drawing short.
When we got back to San Juan, I walked out on the beach behind our hotel. It was a beautiful evening although we had been in and out of rain during the day. I looked out at the ocean, a place that wasn't special to my mom but is a lifeline for me. I closed my eyes and sent up a little prayer. That my mom was OK with what I had done and that I might come back some day.