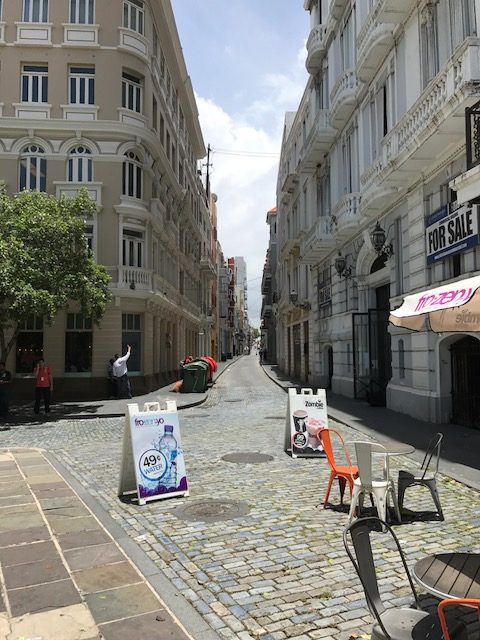 One thing we learned on our first day in Puerto Rico is that we live a life that is too hurried. Even on vacation we are used to everything happening fast. When we order food we consider service good if it is fast. When we go somewhere, we tend to hurry through. Life is all about speed in this country and taking your time and purposely being slow is against our beliefs.
Our first dinner in Puerto Rico was oddly enough in an Italian restaurant. Since we had traveled all day and were tired, we just decided to eat in the hotel and decided on Italian between several restaurants there.
When we sat down at our table, before we ordered anything, waiters appeared carrying small plates of food. We were given sliced pepperoni, fried zucchini slices, 3 kinds of bread and big hunks of Parmesan cheese.
After we ordered our drinks, we were given time to savor the table full of food that had been given to us. When we ordered our food, the courses came with plenty of time to enjoy each one thoroughly before the next one was presented.
Each dish was more delicious than the last. Occasionally I would see one of the 5 or 6 servers walk near our table and see if we were still alright. If it was time to take a plate away or refill a glass, they would wait until a lull in our conversation before approaching the table.
At the end of the meal we all three agreed it was one of our best meals ever, and certainly some of the best service ever. We left after 2 hours of eating, realizing we were not only full, but relaxed.
The next day we decided to go to Old San Juan, a section of town that contains two forts and lots of food, shopping, music and color. We took a cab to the first fort. (The cabs in PR do not run a meter. There are set fares to each spot. When we got our cab at the  airport when we first arrived we were told before we got in that the fare was $14. No matter what route he took, or how much time he took, the cost was set.)
The fort was interesting and we spent an hour or so there. It had been used to protect the island since 1598 and had been added onto and used as recently as WWII. After the late 1950's it was turned into a national park.
The plan that the cab driver had suggested was to then take the shuttle to the other fort at the top of the hill and then we could walk to anywhere we wanted and it would be a downhill trek. After we spent some time at the first fort, we headed out to where the shuttle picked up and waited. And waited. And waited.
Being ever in a hurry, we waited impatiently for about 20 minutes. The shuttle supposedly came by every 15, but one lady walking by said that it made more frequent stops inside the town and less around the perimeter which included the forts. Tim looked at his watch and gave the shuttle 5 more minutes before we decided that we had seen one fort, so we'd seen them all. We figured we were good to dive in to walking into the center of Old San Juan.
After walking about two blocks we looked back to see the shuttle drive up and stop at the very spot where we had been waiting. Oh well! To walk to the other fort was a steep uphill climb and my guys were not up for that, so we headed down the hill into town.
We were getting hungry after no breakfast- I was so anxious to get going we had just headed out on an empty stomach. Before we had left the hotel I had asked for a recommendation of some place where we could get real Puerto Rican food. One of my goals for the trip was to eat Puerto Rican rice and beans and pasteles, a traditional PR dish that as a child we had always eaten at Christmas.
The restaurant that the concierge had suggested after conferring with other people at the hotel was not easy to find. We had wandered around enough that when Jon got out the GPS and we headed to the address we had been given, it was a long walk. For the most part we were on level ground, but the last block was rather steep. When we got to the address we were far from the tourist areas, and only a small sign and the street number let us know we were even at a restaurant.
Inside, once again, the pace was slow. We enjoyed empanadas, fried sweet plantains, rice and beans that tasted like my mom had just made them (it was really the only thing she knew how to cook well) and pasteles.
Pasteles are hard to explain. They are made with green bananas and plantains and then it seems to be a free for all of what you fill them with before you wrap them in a banana leaf to steam. They are somewhat akin to a tamale, but not really. The canned ones my mother would have sent to us for Christmas usually had pork and garbanzo beans in them. The one I was served in Old San Juan had lots of pork, and one odd olive inside.They are very labor intensive to make and that is why they are usually served only at Christmas. In walking to the restaurant we passed many other places to eat with menus out front, but not one had pasteles listed, so we kept on walking. What I was served was worth the extra walking.
It was like a mouth full of memories as I stuffed the familiar food into my mouth. After the long, hot walk, the slow paced meal and all of the food we consumed, we thought a nap was in order. Unfortunately we had a long way to go before we could rest.
We strolled along the streets full of architecture that reminded me of my trip to Panama years ago and reminded Tim of New Orleans. The stores were laid out just as the concierge had told us- a street in one direction had what she referred to as "fancy" stores and one going the other way was more local artisans and handmade items.
I was not interested in the stores I could find here at home. I went into a few art galleries and one shop that had handmade jewelry for a few gifts for friends at home. We ended up down by the port where we saw a cruise ship pulling in and a man with a large iguana. The iguana had a straw hat on and was being carried by the man and then set on a rock wall for people to take its picture. I don't think the iguana was particularly happy with his star status, but it is hard to tell with an iguana.
Eventually we decided it was time to head back, so we found a taxi stop with two taxis lined up. The trouble was that no one was inside either car. We waited for a bit and eventually we decided to go into the hotel across the street and see if maybe the doorman could help us.
Inside the small, dark hotel we did not find a doorman. We asked the ladies behind the counter if they knew anything about the taxis across the street. One lady walked around the counter and led us back outside. She saw the empty taxis and headed off to the small  square nearby. She came back soon with a man who was drinking a cup of coffee and was in no hurry, speaking Spanish 100 miles an hour at him. Tim thanked her for going to get the man and tried to give her a tip for coming out in the heat to track down the driver. She pushed the money away and said, "All I want is for you to enjoy and love our island."
The driver tried to look in the first taxi in line, but when he saw no one around he decided to take us in his taxi which was second. After a few blocks he stopped in the middle of the road, got out and threw his empty coffee cup in a trash can as other cars waited behind. He was in no hurry and neither was anyone else!
When we arrived back at the hotel we decided to end our day with a little siesta by the pool. We ate tapas for dinner and were worn out and ready for bed.
The next day promised to be our most adventurous as we got a car and headed with my mom's ashes to the other side of the island. I went to sleep full of good food, memories and the knowledge that the next day was the main reason we were there.