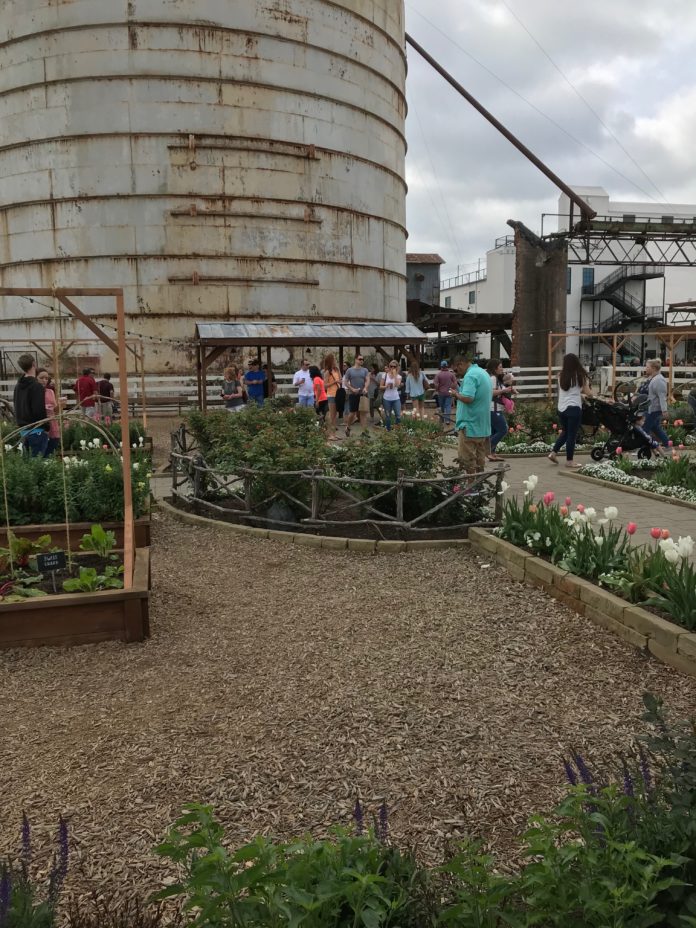 If you are ever interested in going to Waco to be a part of the Magnolia phenomenon, I would highly recommend the hotel where we stayed- Hotel Indigo. It was two blocks from the Silos one direction and although we didn't know it until day two, you are two blocks from the Spice market and restaurants in another direction.
We got up on Saturday and headed towards the Silos. A church nearby struck a deal with Chip and Joanna, the owners of the Magnolia company and use the church parking lots (at $10 a car) to handle the traffic that is generated by the Silos. It is a win- win situation. The church makes money, the people can park nearby and Magnolia had ready made parking. Since the Silos are closed on Sunday, the church crowd has their parking when they need it. It is amazing how things can all work together for good, when everyone is neighborly and sensible.
It was almost 90 degrees that day in Waco and we were going to walk as much as we could to avoid the traffic. The heat didn't slow down the flocks of people who came to the Silos that day- it was packed.
I had decided not to have any dessert most of the trip, so I could save my calories and sweet tooth for a cupcake at the Silos Bakery. The day before, whenever we had driven by (and we did several times) the line at the bakery was out the door, around the corner and way down the block. I do love cupcakes, but not enough to stand in the heat for hours!
We walked around the Silo area, which was beautifully maintained, and watched people eating from food trucks, playing cornhole and just relaxing on the lawn area. The landscaping and garden areas were pretty and I got lots of ideas.
Eventually we headed into the store, which was packed with people. I felt like i would get myself trapped in corners or not be able to get to the one item I found and wanted. I am not afraid of crowds, but they can get on my nerves pretty quickly.
I finally got the items I wanted (well, I actually would have taken one of everything in the shop, but I managed to narrow down to a few purchases) and got in the long line to check out.
The line moved quickly, yet once again when I reached a cashier they did not make me feel hurried at all. In fact, she asked me where I was from and when I said Alabama, her face lit up!
"I was just in Tuscaloosa! I am going to graduate school there!" After we talked a while, the whole time she was efficiently ringing up my items, I found out that her grandfather had gone to Auburn. He wasn't happy with her choice, but she was thrilled to be starting in the fall. When she was done and I had paid, again I did not feel hurried, she informed me I had earned a free gift and sent me around back to retrieve it.
It is a wonderful staff that can make you forget the crowd, handle a transaction swiftly, yet make you feel like you've had a visit with a friend.
We checked the cupcake line, still too long, and then headed down the street to a couple of stores called The Findery. One storefront was full of interesting decorating ideas and cute items, the other was mostly furniture.
We walked back to check the bakery line and then strolled on back to the hotel. We jumped in the car and went to Harp Design. Clint Harp does beautiful wood work that is often included in the houses featured on Fixer Upper. His shop is in front of his work area and his house, which was featured on the show, is next door.
Again, we picked a few special items and went to pay for them. The girl and guy behind the counter spent a lot of time talking to us about running, (they are preparing for a big marathon in Waco) trucking, (long story) and wood. Another nice experience that makes you feel good about your purchases and life in general.
I then pulled out the phone and looked up the addresses of some of the other houses featured on the show. We found the bed and breakfast they fixed up and opened. It is in McGregor, which is about 18 miles outside of Waco. We found the very first house that was done in the pilot episode. The GPS put us in some tight neighborhoods, took us to wrong addresses and caused more than one hair raising turn, but overall we saw about 8 houses.
We went back to the Silos, to just sit and watch people. People from all over the world came by the spot that we had picked, near a sign where everyone gets their picture taken. It is a metal arch that says "#MILESTOMAGNOLIA". The fun thing was watching people help each other take pictures.
If one person in the group stayed out to take the picture, invariably someone in the group behind would offer to take the shot so that everyone could be in the picture. Then that group would reciprocate.
Some couples would ask Tim if he could snap their picture. Everyone was hospitable and friendly and I laughed many times at comments and circumstances that made me feel better about the world we live in. Before this trip, I was beginning to feel rather hopeless about the state of our world, but the friendly people and cooperative spirit during the trip had me thinking that maybe it will be alright.
Unfortunately, for all of the pictures Tim took of others, we never got anyone to take our picture! When we tried to do a selfie, the crowd in that area had died down. Our selfies never turn out very good. Oh, and the cupcake never happened because that crowd never died down- that line stayed wrapped around the block ALL DAY!!!
We had found a nice looking Mexican restaurant near the Silos, so after a quick freshen up at the hotel (and by chance the end of an episode of Fixer Upper) we made our way to Hecho en Waco which I looked up to mean "made in Waco." It was a happening spot and although we waited for a table, it was once again good people watching.
When we sat down, I ordered a sangria. The questions that the waitress asked me made me think I was going to end up with a margarita, which I don't like at all. When she finally brought the drink, it was indeed sangria which was the best I have ever had anywhere! And the food was really good as well.
We then looked up the house we had just watched on TV before dinner and drove out to see it. It had been done for the athletic chaplain at Baylor and was a very distinct house that was even prettier in person. We wondered about this man and his family in light of the trouble in the athletic department at Baylor.
Well built, beautifully decorated houses are nice, but the stories of the people that live inside are what really matters in this world. Having a pretty, inspiring place to live, filled with your memories and love, is what drew us to the show from the beginning. It seemed only fitting to pray for this man and his family, whether still in that house or another one somewhere else.
After that we headed back for a good night's sleep.
In true Tim Lunceford fashion, it took us two days to get to Texas and 2 hours to get home! OK- that is a slight exaggeration, but when it is time to go home, Tim floors the gas pedal and stopping is not an option. I had thought about getting a hotel to break up the return trip, but knew it was not really in the cards. I figured if he decided to stop, we would just settle for what we could find. Deep down , I knew that we wouldn't stop.
Overall, the trip was fun, inspiring, and a great get away. It gave us a chance to slow down and talk through some things, as well as chat with people we had never met and probably will never see again. We have some new items, new ideas and a new plan.
"When people have never felt the power of their own wings, they can't imagine taking flight." This quote out of Tyler Perry's book made me think throughout the trip. Sometimes you just have to make yourself jump to remember what it feels like to fly. Sometimes a new environment helps you to try new things, see things through new eyes and shake the dust off your wings.
Maybe now is the time to soar!