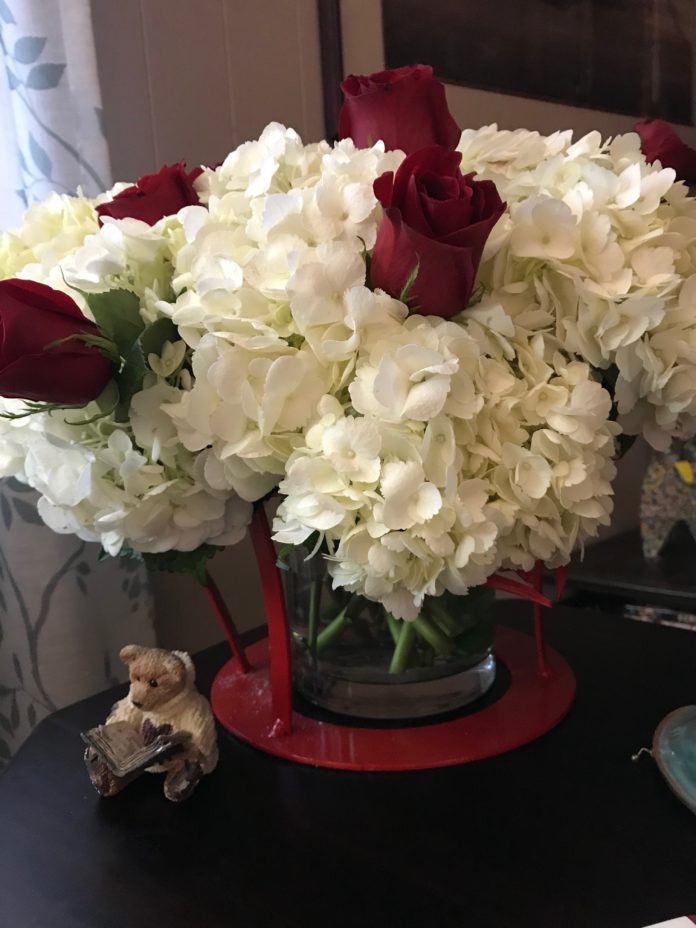 Tim and I have wanted to collaborate on a piece of art for awhile now. He has done so  many beautiful metal pieces for us and others and I have done a few paintings mostly for our house. I knew if we could combined the two, that we might could make something different and interesting.
When asked to do a piece for an upcoming fundraiser, we decided this might be the time to try out our idea.
Tim cut out some words in metal in a really pretty font and left it for me to create a piece around. I immediately began teaching at summer camp and pushed it all aside.
Two days after summer camp ended we left for a week in New York City- my favorite place in the world. When we got home, Tim had one day to regroup (mostly for me to wash clothes and help him pack) and he was gone again to work on roofs in Memphis with 150 young people.
In the back of my mind I kept my idea of what I wanted to create, but had absolutely no time to get it done. With Tim gone, I knew I could spend the week working on my idea. And then I started getting texts asking if I could meet for this or that and having been out of pocket for so long, I agreed. Before long my calendar was pretty full for the week.
The words that Tim had cut out for me sat on my desk, taunting me, making me feel awful that time was slipping away and I was no closer to painting it's background than I had been when I first laid it there almost four weeks ago.
Finally, I had an afternoon to myself. I would have loved to read or binge watch a show, but the canvas called me. So I got out some tissue and mod podge I had in my cabinet. The mod podge was glued shut- it had been a long time since I had used it! Try as I might, I could not open it. I decided to wait and see if my son would come by that evening to get some mail and maybe he could open it.
He did.
Luckily the next day I again had some time to myself and was able to lay down the first layer of the piece I wanted to create. I let it dry and then made a list of the paint and things I would need to do what I had in mind.
Now most of you know that I doubt myself at pretty much every turn, so I was really not sure about what I was doing or how to do it. I sometimes feel I get an inspiration and art just creates itself- I am not really sure how it happens. Other times I try too hard and it doesn't go very well.
This morning when I got ready to go to the store for my paint, I decided to go look in my cabinet for what might be there, so I didn't buy something I already had. My entire list, each color I had written down, each glaze I wanted was there, hidden in the back of a cabinet I had not looked in for a long time.
Acrylic paint in blue, white, silver, gold, an iridescent glaze, wide brushes and a few small ones, all were there, just hiding, waiting.
I thought back to the sermon on Sunday, when our minister told of a rough patch he had while going through the process to become a minister. He doubted himself, he doubted his calling. His aunt, a minister who had continuously been the first woman in every appointment she filled, told him that "Everything you need, you already have."
Those words hit me and reminded me that my mentor and adviser in college would tell us over and over again that we were enough. I never believed her. I continued to think that I needed something- a different hairdo, better makeup, a cuter outfit. Surely there was something out there that would make me feel like enough, because I wasn't feeling like much of anything.
When I found all of the paint this morning, I realized that I no longer needed to go to the store at all, I already had everything I needed. And it hit me that somehow, even though I do not specifically remember buying what I found in the cabinet, and although what was there was somehow exactly what I needed, what I had was enough. And it had been there all along, just waiting for me to discover it.
Do I think every time I need something it will magically appear? No! Do I think that life is ever really that simple? I wish! Do I expect life to be handed to me so I never have to go searching again? Of course not!
I know that somewhere, a long time ago, I bought the colors that appealed to me then and that they are the ones I still prefer to use today. I know that I have overbought on occasion and these were probably purchased sometime when I didn't look before replenishing, like I decided to do today.
It was not magic or God providing me with paint. It was, however, a nice reminder that we don't always have to go searching for what we think we need. Most of the time we already have everything we need, if we will just slow down long enough to see it.
And the words that Tim cut out and are ready to be added to the art I have created? ALL YOU NEED IS LOVE.